Initially, when WBFC was approached about a partnership at Lund Pond, we were somewhat apprehensive, mainly because of it's overall size. At this time, Lund Pond is only 1 acre in area. However, after spending some time casting flies here, the Professional Guide Team at WBFC found some interesting promise. We discovered that it's small, intimate setting was an ideal location for the WBFC Fly Fishing 102 Class. Here, our professional instructors will teach you some of the most advanced skills needed to begin your start in the sport of fly fishing.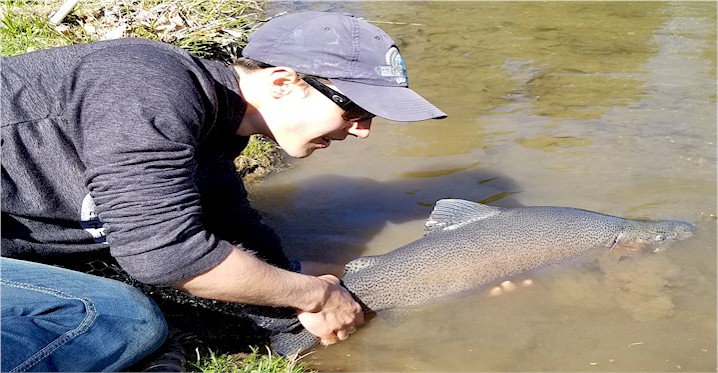 Learning how to cast a fly line, set a hook in a fish and then have the necessary skill levels to fight and land a big powerful trout on light tippet is definitely a challenge that every fly fishermen is thrilled to encounter. Lund Pond is an ideal place to begin and to learn many of these essential skill sets, in order for you to advance your fishing proficiencies. It has been an excellent setting for WBFC to teach many up and coming fly fishers, the basic principles of fly fishing, before they attempt the more demanding river fisheries, like the Yakima River.
Here, an apprentice of the sport will learn about rod and line dynamics, as you cast flies in varying weights and sizes. You will learn turnover and effect as well as the proper methods of embedding "barbless" hooks of various sizes, into a big fish with a mouth of hardened cartridge and retaining them on the line throughout the battle.
You will also be taught the correct form and technique for fighting and successfully landing a large trout. This challenge is yours and yours alone as you weild the rod against a freshwater beast and test your talents in a small and intricate setting. Many methods of fly fishing are accomplished over time and demand energy and effort in order to acheive successful status. Some of these methods are learned through trial and error. To date, Rainbow Trout over 10 pounds are common place here and the largest recorded rainbow that has been landed at Lund Pond was just over 17lbs.
One outcome when we began taking bookings for the pond, that surprised us the most was the amount of interest the advanced fly fishing community have shown in Lund Pond. We knew without delay that the "big fish" would most certainly get the attentions of the experienced fly fishing crowd. The challenges presented at Lund Pond, offer some fascinating circumstances for a skilled fly fishing angler.
Hooking and landing a trout over ten pounds on smaller flies is a enormous challenge in it's own right. Many times at Lund Pond, these larger sized trout will either bend or completely break your hook shanks and bends, especially if to much pressure if applied. A fine touch, the correct fly rod, balanced with superior tippet as well as a skilled hand, can put fish in the net at Lund Pond. However, we have seen even some of the most skilled anglers get schooled time and time again by Lund Pond Rainbows.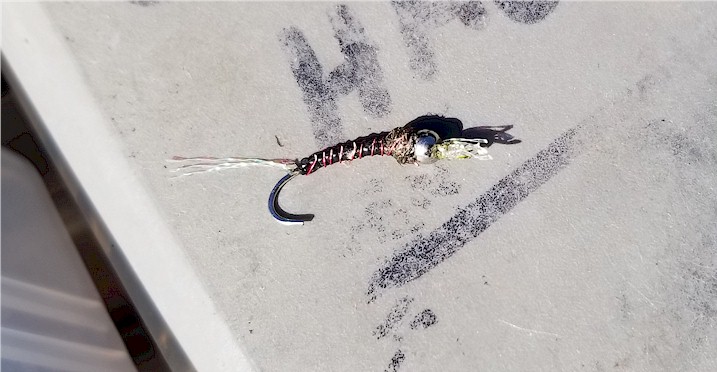 Lund Pond has a constant supply of freshwater delivered to it on a daily basis. If needed, management throughout the season can route additional freshwater directly into the pond, replenishing it with oxygen from a clean, irragation source. The pond is also oxygenated with special pumps to create additional O² to maintain the health of these large fish, the aquatic insect growth and the vegetation.
The pond has one large dock to stand and cast from, however fly fishing from a pontoon boat, float tube or small pram is an ideal way to cover the pond adequately. We do not supply these types of boats, however you are welcome to bring your own and use at your own risk. US Coast Guard approved life jackets or preservers are required on each boat at all times. Because Lund Pond is a privately own facility, a Washington State fishing license is not required for the day.
"FLY FISHING FROM A PRAM, PONTOON BOAT OR FLOAT TUBE IS IDEAL AND RECOMMENDED AT LUND POND"
Lund Pond does have a natural, thriving aquatic insect base that fish feed on throughout the year. Chironomids, Leech's, Worms, Damselflies and Dragonfly nymphs all populate the pond in vast numbers. The pond also exercises Caddisflies hatches and supports terrestrial life forms as well. Ants, beetles, bees and Grasshoppers exist in good numbers around the circumference of the pond. During the season, Lund Pond Rainbows will feed on the surface and can be hooked and landed on dry flies as well!
Lund Pond is available to fish any day of the week, however their is a seasonal time frame here due to weather and water constraints. We will begin fishing Lund Pond shortly after ice off and offer trips or classes here through the month of June. The months of July and August when the air temperatures escalate under summer heat is to warm for lake fishing for trout. Warmer water temperatures can cause unnecessary and undue stress on trout, when they are hooked and played during these conditions. Lund Pond will be available in the autumn months of September, October and November, until ice begins forming on the pond once again.
To book a day at Lund Pond, a minimum of two anglers is required and a maximum of 4. Please contact the WBFC Proshop with any questions you may have or to schedule a day of fishing.