" A BRICK & MORTAR PROFESSIONAL FLY FISHING PRO SHOP"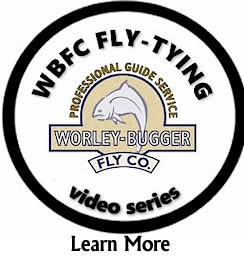 ---

THE CHUBBY CHERNOBLE
Here, Nathan Schepker, a member of the Professional Fly Fishing Staff and Guide at Worley Bugger Fly Co. demonstrates how to tie the "Chubby Chernoble". This pattern was originally designed as the "Chernoble Ant", but as of recent years has morphed into the Chubby Chernoble. The difference being the implementation of the Poly Yarn Wing, which makes it much more visible to the fly fisher.
The Chubby Chernoble can be tied in various sizes from #4 to #16, depending on your needs. The most popular colors in our area are Black, Purple, Yellow, Gold, Peach, Golden Stone, Red, Peacock and Royal. The Chubby Chernoble is what we refer to as a "silhouette" fly. Meaning, with its foam body it projects the appearance of a large insect such as a stonefly or hopper. A big food item. They are fun to fish and fun to tie. They also work well as a point fly when attaching a dropper fly behind because of its buoyancy and it's ability to remain floating, especially if you coat it with "FlyAgra" floatant.
THE CHUBBY CHERNOBLE-GOLDENSTONE PATTERN RECEIPE CONTENTS:

MUSTAD 94831BR HOOK-#8

HARETRON DUBBING-GOLDEN STONE

ROUND RUBBER LEGS-MEDIUM-BROWN

THIN FLY FOAM-TAN

WIDOWS WEBS-WHITE

KRYSTAL FLASH-ROOTBEER

VEEVUS-8/0 THREAD-BLACK
---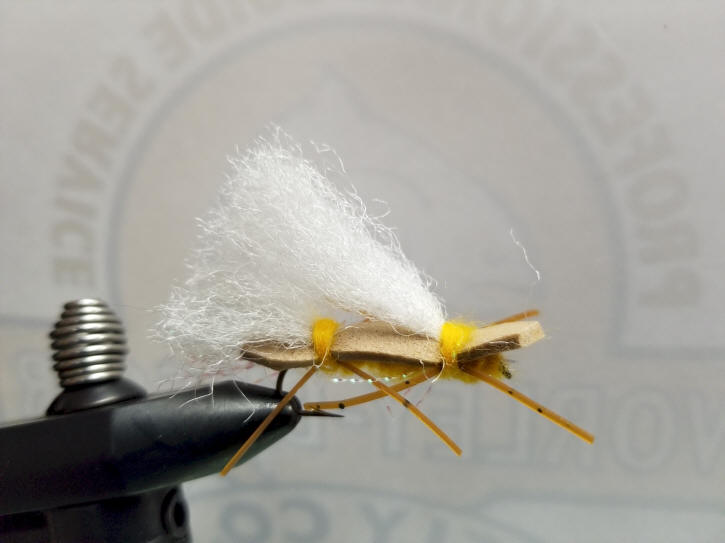 COMPLETE KIT
PATTERN
PRICE
THE COMPLETE FLY
TYING KIT
CHUBBY CHERNOBLE
PRICE: $27.00 per pack
Buy Now

The complete "Chubby Chernoble" Fly Tying Kit contains every fly tying item that you will need to put together your own Golden Stone Chubby Chernobles. (excluding vise and tools). Purchase the complete kit or buy only the items that you need below.

---

HOOK

PRICE

ADD TO CART
Mustad 94831-#8
25 pack
PRICE: $5.65 per pack
Buy Now
Haretron Dubbing-
Golden Stone
PRICE:$2.75 per pack
Buy Now
Round Rubber Legs-
Medium Brown
PRICE:$3.50 per pack
Buy Now
Thin Fly Foam-2mm-Tan
PRICE:$2.00 per pack
Buy Now
Widow's Web-White
PRICE:$3.89 per pack
Buy Now
Krystal Flash-Rootbeer
PRICE:$5.25 per pack
Buy Now
VEEVUS 8/0 THREAD-

BROWN
PRICE:$4.10 per pack
Buy Now
A PROFESSIONAL BRICK & MORTAR FLY FISHING PRO SHOP & OUTFITTER SERVICE
1713 SOUTH CANYON ROAD - ELLENSBURG, WA 98926 - 509-962-2033 - www.worleybuggerflyco.com