It is the last few remaining days of 2019, and I personally would like to take the time to thank all of our fly fishing friends that have supported the efforts of WBFC again this year. The Professional Fly Fishing Staff here at WBFC, experienced perhaps the most eventful season to date, in our two decades of existence. After twenty plus years of offering our professional services to the public, our expertise continues to grow and expand and we are now more excited than ever about the sport.
The fishing season began a little bit later than usual this spring, due in part to the extended warm fall that we encountered in 2018. The Kittitas Valley has experienced several years in a row now, where the Indian summers take hold in late October and our fishing remains intact and productive well into the month of November. The same scenario played out again this fall and warm temperatures were predominant throughout the majority of November. The last day I guided was November 15th and half of the fish to the net, were on my Blue Wing Olive Cripple Emerger pattern. We were able to fish a size 16 the entire day and the fish ate it without reservations.
You have got to love that in November. Usually, we are fishing mostly sub-surface flies or presenting size 20 or smaller mayflies by that time of the season. Hatches of Blue Wing Olive Mayflies continued well into the third week of November, as water temperatures remained mild for this time of year.
The tell tale signs of winter, didn't actually become visible in the valley here until the first week of February and once it started, the precipitation all came in bunches. Shortly there after, the Kittitas Valley received it's snow pack and though not in the normal range we are used to seeing, it was ample enough to supply plenty of cool water reserves, to make it through the summer. This was a true blessing for us and the fish, especially in this day and age, when emphasis on our water resource here in Central Washington is more demanding, than we have ever encountered.
With the moderate snow pack, the river never did experience a large push of water at once or a big blow out period. The air temperatures remained mild throughout the spring and the snow pack run-off melted gradually, which is always the preferred situation for us. Summer fishing of course is always good because of the Yakima River's cold, clean water and high flows that dictate elevated levels of DOC (dissolved oxygen content). There are always hatches of aquatic and non aquatic insects during this time period that supply an incredible food source to a growing trout population.
Personally, I believe this past September, October and November go down in the record book as perhaps the best fly fishing I have witnessed to date on the Yakima River. In my near thirty years of fly-fishing here in Central Washington, our home river seems to be improving greatly year after year, and the wild trout are thriving throughout the system.
Our mayfly hatches were exceptional and the October Caddis again lasted into November. The Yakima produced excellent hatches of Cranefly and Stonefly both in the month of September and that was out of this world fantastic.

A great deal of changes have occurred over the past decade in the Yakima River drainage. If you stay in touch by viewing and reading our quarterly newsletters, then you have surveyed my thoughts and theories as to why. There has been a vast improvement in the river resource, since the infancy of its selective gear rule changes and the beginning of the fly fishing sensation here in the valley. Not a week goes by at the WBFC Pro Shop when Tim Irish's name isn't brought up or mentioned in conversation. The Yakima River's, first ever fly-fishing guide and prodigal son left his legacy well intact and his vision of a thriving wild trout population in the river is unfolding. If you haven't fished the Yakima in some time or gave up on it completely, I would encourage you to take another look. It's not the same Yakima River you grew up with. It has truly become one the best trout fishing rivers in the west.
As you may or may not know, WBFC is also the premier outfitter for warm water fly-fishing in Central Washington. Our Professional Staff of fly fishermen spend at least 80 to 90 days a season, fly-fishing for Smallmouth/Largemouth Bass, Northern Pike, Tiger Muskie, Carp as well as several other species.
This year was also an exceptional year of bassin' with a fly. We had great water in the Lower Yakima for a 30+ day period of Smallmouth fishing and from mid May to the end of June, it produced some fine bass fishing with a fly. The Columbia Desert Unit is just a short drive to the east of us. It consistently flexed great fly-fishing as well in the rivers and lake systems. Of course, we love top-water fishing for bass and practice this form exclusively as much as possible, whether we are guiding customers or when we are fishing ourselves.
The staff is already "chomping at the bit" and drafting new fly patterns to use for our warm water friends this coming season. We look forward to the upcoming term of warm-water fly fishing and introducing new anglers to these great, dramatic game-fish.
We plan to expand our warm water, guided fly fishing opportunities in 2020 and you will see acknowledgements of that after the new year. If you are interested, mark May & June on your calendar as the key months.
It's December now and the most productive time of the year for fly fishing the Yakima River has ended. Why? Water temperatures have dropped, insect hatches are scarce and the amount of daylight is limited. That doesn't mean fly fishing on the Yakima River has subsided. Fishing is open here year round, 365 days a year in the Upper Yakima and as we already know, trout do not hibernate. They feed on a daily basis, but tend to only be active during the warmest portions of the day.
The river is quiet now with just a few anglers standing in its sub straight or casting from a boat each day. The peace, solitude and beauty that the river provides can be invigorating this time of year. Of course, the pursuit of a large trout is a thrill as well and the Yakima just happens to be a good winter fishery. It can fish especially well during mild periods like we are experiencing once again this December. Plan your day according to air temperatures and fish during the warmest portions of the day. You will notice a swing when the fish get active and feed. Concentrate your efforts if you can, where the sunlight has penetrated its warming rays. The valley can develop an inversion layer of clouds and fog that can hang low, along the hills and gullies this time of year.
The days when the air temperature exceeds 38 degrees or better, can be wonderful fishing. If you live and fish here in the Northwest, then warm weather gear is essential and is part of your wardrobe. The "Primaloft" material made jackets, vests and other apparel are incredibly warm and light weight. If you love winter fly fishing or outdoor recreation this time of year, then these are a must have to keep you warm and comfortable! It kept me toasty in late October, when we ventured to Wisconsin in search of Muskies on a fly. The WBFC Pro Shop is stocked now with some fine Simms brand, Primaloft jackets, just in time for the colder weather.
If winter fly fishing isn't your thing, well then leave it to those who enjoy it. The Skwalla Stonefly hatch is just around the corner and depending on Mother Nature and what Old Man Winter decide to do, we could begin seeing signs of that hatch as soon as February. Until then, dream of fly fishing on your favorite streams, refill your boxes with arsenals of flies and get ready for the 2020 season. It will be here before you know it.

I am pleased to announce that WBFC is in another state of expansion in two separate categories. It seems, I just won't be satisfied until I have accomplished everything I set out to do with this outfitting business and the WBFC Staff keeps driving and improving our services each season. The first class of the expansion is under way, as we bolstered our "hosted travel" program in 2019. The travel program began from its infancy in 2018 when Aron and myself, hosted our first group of traveling anglers, to the remote bush country of Alaska.
This past May, Lead guide and Professional Fly Fishermen, Aron Larsen escorted his first group of saltwater fly fishermen westerly, to the remote island of Kiritimati, better known in the fly fishing world as Christmas Island. The trip was a smashing success, as hundreds of bonefish were brought to hand as well as several species of trevally, dozens of triggerfish, milkfish and barracuda.
WBFC is pleased to announce that we have secured (2) "Full Moon" dates to Christmas Island in the spring and summer of 2020. On May 19th To May 26th-2020 (booked full) and July 28th To August 4th (spaces still available).
In May of 2020, Head Guide at WBFC, Steve Worley and Lead Guide, Aron Larsen, will host another epic, saltwater adventure to Christmas Island. Ten adventurous, traveling fly anglers will join us for a week in the tropical waters of the Pacific, as we pursue a host of unique and magnificent saltwater species. Everyone is excited and preparing for this adventure at one of the worlds most productive atolls.
In late July of 2020, WBFC Pro-Staff Personal, Dom Singh will host his first exotic trip to this region of the world. WBFC has reserved and secured another, fantastic "Full Moon" date and we are looking for eight to ten adventurous fly anglers to join him. If you are interested in visiting this pinnacle, saltwater destination, please contact us immediately. A deposit is required to hold each reserved fishing spot. These fishing spaces will begin filling quickly after the New Year, so I would encourage you to reach out to us immediately, if you are interested.
This is an excellent, "Full Moon" summer date at Xmas Island. This is a quiet time of the year on the island and a low fishing pressure period as well. It is typically not visited with western hemisphere, fly anglers during the summer months. Traveling fly anglers from the west coast generally visit the island during the cold, winter season. The average daily temperature is 80 degree's, even in July and August. It will be a great way to spend a week of the summer, in 2020 with an excellent host. You can find more information about these two saltwater destanation trip here.
The past two summer seasons in August of 2018 and 2019, WBFC also secured dates for an amazing backcountry, bush adventure to the Last Frontier of Alaska. We have visited Justin John's and crew at "The Fishing Bear Lodge" on both occasions. The Fishing Bear Lodge is located in America's largest, Nation Park, which encompasses over 1.6 million acres of prime Alaska wilderness. Referred to as "The Jewel Of Alaska", the park is filled with incredible beauty and mountainous, green, granite architecture.
Here, we are treated like kings and queens, as we fly fish for four different species of fresh water fish. The Rainbow Trout dotted throughout the system will test the best fly gear in the world. They will accelerate into your Dacron backing without any unwavering hesitations. It is, absolutely hands down, the best "Dry Fly" fishing I have ever experienced in my fly-fishing tenor. I am already savoring our return in 2020.
Once again, Steve Worley and Aron Larsen will host a group of eight to this remote sector of Alaska and spend a week at The Fishing Bear Lodge. We have secured and reserved, the week of August 2nd thru August 9th-2020. Again, we are looking for (8) eight adventurous, traveling anglers, both men and women that would like to join us on this adventure, to the remote bush country of Alaska. It is, without a doubt one of the most beautiful places on the planet!
Steve,
It was indeed an epic adventure for me. Some of the largest fish I've ever brought to the net. Where can you go and successfully fish for four species of fish in one day. I did hook a Sockeye, but thankfully I shook it off. There were a couple rainbows I wish I could have seen but they had other ideas. Way into the backing but I couldn't turn them. Jared was getting a bit frustrated with me and said maybe he was picking on the client too much. I agreed. He really bonded with Chad, which was great. I would recommend the trip for anyone looking for a great fishing and social adventure. You and Aron were perfect hosts.- Bill
Here, we will spend 6 days, fly fishing in rivers, streams and lake systems. During this period, millions of Sockeye Salmon will be spawning throughout Southwest Alaska. Our main focus will be on rainbows, Artic Char, Artic Grayling and Northern Pike, however you can fly fish for Sockeye Salmon if you like. The average rainbow trout in the rivers at this time is (20) inches and most can be caught on the surface with dry flies. Skating Mouse patterns was an incredible fishing method, throughout the park in 2019.
We are now accepting deposits to secure fishing spots on this 2020 adventure to Alaska. For more information, I would encourage you to visit this link for more detail information or contact the WBFC Pro Shop with any questions you may have. These dates will fill quickly, now that the fishing week has been secured and announced. Thank you for your interest.

Our next expansion project is centered around our home base location in Ellensburg. Over the past few seasons, WBFC has worked tirelessly to build one of the finest Professional Fly Fishing shops in the country. We will continue with this mission, as we introduce new and exciting 2020 products to the shop, as well as expand our already, massive inventory of gear, flies and fly tying products. Did you know that WBFC sells their inventory products online through the extensive website and ships them on a daily basis around the globe?
In 2020, plans have been made to add an additional (10) ten new drawers of fly patterns. These ten new drawers, will integrate into our existing fly display and accommodate patterns for saltwater, Northern Pike/Muskie, trout, bass, Carp, Redfish as well as many Stillwater applications. When complete, WBFC will house close to 3000 different and unique fly patterns, which can be used worldwide.


The Christmas season can be a difficult time, especially when it comes to gift giving. What do you give the fly fishermen in your life that has every gadget imaginable? One of the most popular gifts during this time of year at the WBFC Pro Shop is a "Guided Trip Gift Certificate". You can purchase these for a variety of Guided Fly Fishing Trips that WBFC will offer throughout the year. This could very well be, the best gift under the tree this year. Give the fly fishermen in your life, an adventure they will remember…give the gift of fly-fishing with WBFC.
If you are looking for some other great gift ideas, the WBFC Pro Shop is stocked with lots excellent products for the fly fishermen. Here is a list of a few, that we can recommend to you.
Flies, leader, tippet-Always a great stocking stuffer and these are items a fly fisher will always use. Every fly fishers loves getting flies.

Hemostats, barb crusher, nippers, pliers, zingers and assorted fishing tools or a nice new fly box.

UV Lights and UV Glue in assorted colors-A great gift for any fly tyer. Gauranteed they will love it!

Simms Primaloft Jackets-Incredibly lightweight and super warm-A must have for any outdoor enthusiast. In stock now!

Hareline Dubbin Fly Tying Kits-Great for the fly fisher looking at expanding their knowledge of the sport and begin tying their own flies.

A WBFC Pro-Shop Gift Certificate-Redeemable any time at the WBFC Pro Shop throughout the year.

WBFC Guided Trip Gift Certificate-Give the gift of a fly fishing adventure where memories will last forever!

WBFC Pro Shop Sale Items-WBFC has some gear redrastically marked down for close out in 2019. Take advantage of the savings!


As we prepare for the upcoming holidays, we trust you will find lots of quality time to spend with friends and family. Here, you can reminisce and reflect on the happy times and fishing trips that occurred this year. Let's us take the time to enjoy those that are still in our life and celebrate those that we have lost. If you didn't get out fly fishing as much as you had hoped, change that next season and make it your New Year's Resolution.
The staff at WBFC, will be taking some time off between the holidays and our Pro Shop hours now have changed. We will be enjoying the time with family and friends as well, because we know that Skwalla Stonefly season is right around corner and our little break will be short lived.
I have also commited to another season of "Guide Chronicles" on Ellensburg Community Internet Radio and new eposides will begin in airing "live" in January of the new year with more exciting and interesting guests.
Again, we thank you for your continued support and patronage over the past two decades and we look forward to seeing everyone in 2020. We wish you and your family a Happy Holidays.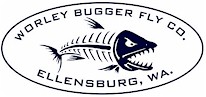 1713 SOUTH CANYON ROAD
ELLENSBURG, WA 98926
509-962-2033
www.worleybuggerflyco.com