at·oll-noun-a ring-shaped reef, island, or chain of islands formed of coral
The island nation of Kiribati is the planet's largest coral formation and foundation in the world. Kiribati (pronounced Kiribas) is an independent republic within the Commonwealth of Nations, located in the central Pacific Ocean, about 2,500 miles southwest of Honolulu, Hawaii. Kiritimati Atoll was sighted on Christmas Eve in 1777 by the English navigator, Captain James Cook and since then has severed many different countries in a variety of circumstances. Kiritimati is the Gilbertese spelling of Christmas, hence the common name of Christmas Island. Kiritimati played a major role in World War II and served as a refueling station for many of the allied forces. In 1979, the people of Kiribati were granted sovereignty and complete ownership to this amazing and unique, atoll.
The islands main source of revenue and export is Copra, the meat portion of the coconut plant. Fishing also plays an important role in the countries economy and each year, this small island nation is visited by many adventurous anglers looking for a variety of unique and challenging salt water, sport fish to catch on a fly.

The main lagoon of Christmas Island harbors the world's most expansive system of productive shallow water flats. Bonefish, Trevally, Trigger fish, sharks, Snappers, Puffers, Milk fish and Barracuda, patrol more than "100" rightly named ocean flats, perfectly designed for the wading fly angler. Christmas Island is a veritable wonderland for the saltwater fly angler and Christmas Island Outfitters. Worley Bugger Fly Co and Flywater Travel invites you to join us as we make your saltwater fly fishing dreams a reality.
Christmas Island is truly a year-round destination for fly anglers from around the globe. Angling traffic to this destination is typically heaviest during the winter and spring months of the year, as Americans flee the harsh, cold months of January, February, March and April. The summer months of June, July and August, finds Australians and Kiwis traveling to the corral flats for the same reasons. Christmas Island is equatorial, which means this popular fly fishing destination offers some of the most consistent fishing weather found in the world from December to March. Eighty (80°) degrees is the average year round, daily temperature in this portion of the hemisphere.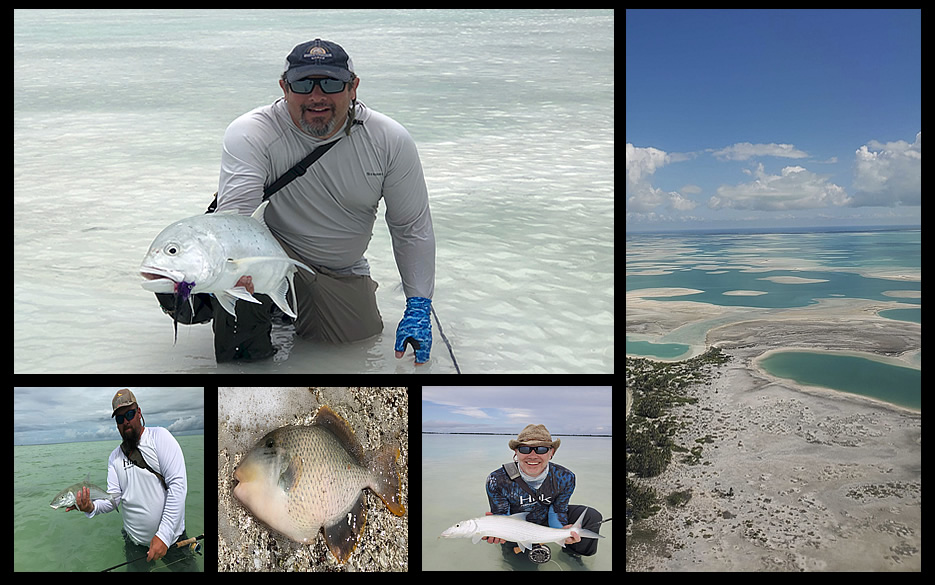 Christmas Island remains one of the world's finest destinations for both beginning and advanced saltwater anglers alike. The island's vast hard sand flats enable anglers to wade fish all day in relative solitude. The saltwater flats hold vast numbers of bonefish that cruise in shallow water, providing anglers with constant sight fishing opportunities. The atoll's proximity to the equator (less than 200 miles) has blessed Christmas Island with consistently good weather, which provides a quality fly fishing experience, on a year round basis.

While the majority of the island's bonefish average two to four pounds, fish in the five to eight pound class are always a real possibility. Five different species of trevally inhabit the salt waters of the atoll and these magnificent fish provide a fly fishing experience and challenge like no other. You will find trevally breaching the scale in the double digit category, which will test the skills and abilities of any fly angler. There is also plenty of opportunity to cast to other well known species that inhabit the atoll as well. The week of fishing is yours to do as you like. Each day will be a different experience on the corral flats. You can decide to fish for bonefish the entire week, or pursue a different saltwater species each day.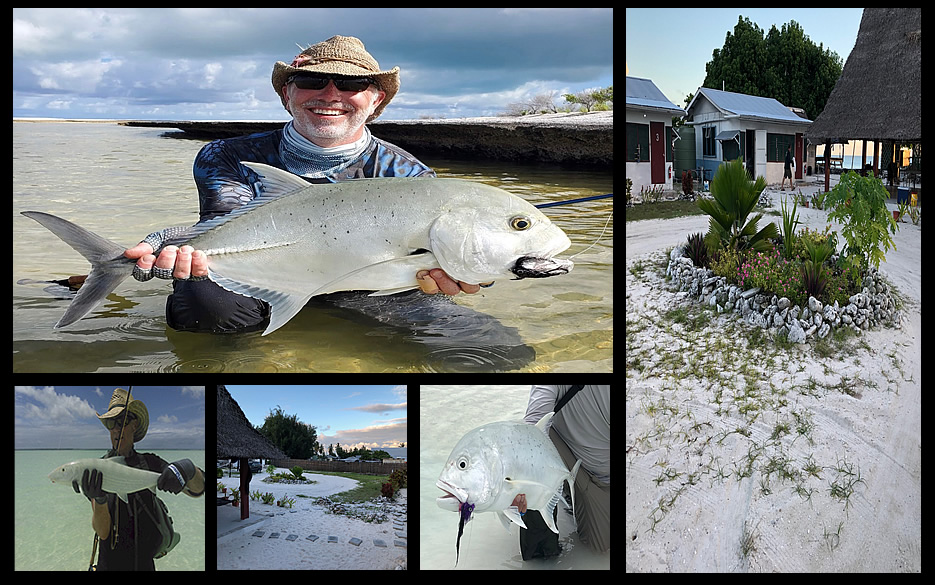 The Guides at Christmas Island Outfitters have been handpicked for their overall level of experience and skill, calmness under pressure, mild temperaments during high pressure sight fishing opportunities on the flats as well as being skilled fly casting instructors. They are native to the island and most speak the English language fluently. Each guide has an uncanny ability to spot fish under the bright sunny skies of Christmas Island as the they blend uniquely camouflaged among the sandy atoll. If you have never experienced saltwater fly fishing, seeing these amazing fish may be your hardest task. Training your eyes to see the different shades and shapes in the atoll usually takes some time. When it comes to polarized eyewear for the tropics, don't skimp here. Purchase the absolute best polarized fishing glasses you can afford. Rose colored lens seem to be ideal for fishing in saltwater and are among the guides favorite color lens for year round fishing and visual visibility at Christmas Island.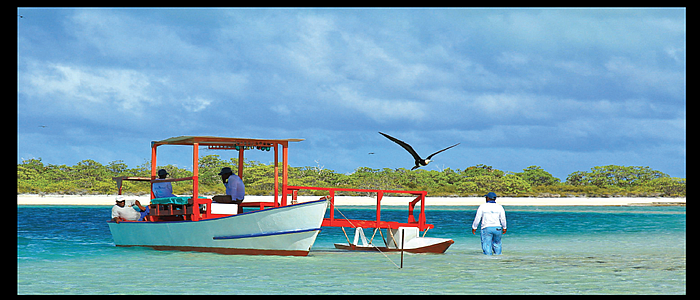 By design, Christmas Island Outfitters have limited their fishing program to no more than twelve anglers (12) per week. As a result, the lodge boasts a highly flexible flats fishing program, that can take full advantage of varying tides and fishing conditions. Each evening, the head guide will lead a discussion on the program for the following day's fishing based on the tide, ocean and weather conditions that are expected. It is good to be flexible and relaxed and prepare yourself for a variety of different situations. The departure time from the lodge can vary each morning, according to what the tide conditions are and where you will be fishing for the day.
The transportation to and from the vast flats of Christmas Island is conducted two ways, either by truck and or boat. Both are equipped with bench seats, canopies, and rod storage. Each day you will reach your fly fishing destination to the flats by these two ways. Be prepared for a bumpy ride along the roads of Christmas Island. Road maintenance here is difficult and the island nation doesn't have the proper equipment or financial abilities as you find in first world countries.

Christmas Island Outfitters, is a small operation that welcomes a maximum of twelve (12) anglers per week. The lodge is located halfway between the airport and a small portion of the island referred to as London, which is a secluded section of beach. Accommodations consist of three split level buildings, each with four separate units. Each room is configured to house two anglers and each house has a private bathroom. The rooms are very simple, relatively rustic, but kept clean and feature ample space for your gear, clothing and other accessories you will need for the week.
Air conditioning is not required to keep anglers comfortable, but all of the housing units do have A/C. Your room will be cleaned and restocked with soda, water, and beer every day during your stay. Each unit is equipped with screened windows, fans, a small refrigerator, and simple plastic table and chairs. Meals are a very basic and regularly comprised of fresh seafood (snapper, tuna & wahoo, lobster, mantis shrimp), chicken, pork, rice, pasta, and sometimes steak. Fresh vegetables and fruit are very hard to keep in supply.

There is nothing fancy or luxurious about Christmas Island. This is a third world nation and you have traveled here for the amazing fly fishing opportunities. This isn't the "Hilton" so if you come to Christmas Island looking for those types of amenities you are going to be sorely disappointed and perhaps this destination trip isn't for you.
The accommodations are very simple and clean. Each unit provides a comfortable space to lay your head at night and refresh for the next day's fishing adventure. As you drift off to a restorative sleep each night, you'll listen to the sound of waves crashing on the reef and dream of the next greedy bonefish or cruising trevally that will haplessly attack your fly. Anglers should think of the facility as a "fish camp" built for one purpose, to provide a functional base site by which to explore some of the most productive, beautiful and remote flats found anywhere in the world.

2020 Rates-The rates and details for Christmas Island in 2020 are as follows:
$2,570 per person for a 7 night/6 day package (double occupancy)
$2,945 per person for a 7 night/6 day package (private room and private guide each day)
Included In Package: Accommodations, meals, guided fishing, four bottles of water per person per day, ground transportation on Christmas Island.
Not Included In Package: All airfare to Christmas Island, accommodations/meals/transfers in Honolulu, alcohol and soda, fishing license, staff and guide gratuities, departure taxes.
Only one (1) flight a week is available to and from Christmas Island, via Fuji Airlines.

WBFC is pleased and excited to announce (2) two upcoming hosted saltwater fly fishing adventures to the exciting fly fishing destination of Christmas Island. This coming May 2020, from the 19th to the 26th, Aron Larsen and Steve Worley from WBFC will be hosting a fly fishing destination trip to the island nation of Christmas Island for (6) six exciting full days of flats fishing. The target species will be Bonefish, Giant Trevally, Trigger Fish and perhaps a few other incredible species. We invite you to join us on this exciting, lifetime adventure to the tropical atoll.
Christmas Island May 19th to May 26th-2020
Total Fishing Spaces Left Available: Two (2)
We also have a second round excursion in the summer of 2020 to Christmas Island leaving in July 28th to August 4th. Join, WBFC Pro-Staff member, Dom Singh on this exciting, summer salt water excursion to the flats of Kiribati.
Christmas Island July 28th to August 4th-2020
Total Fishing Spaces Left Available: Ten (10)
Please contact WBFC at the proshop in Ellensburg @ 509-962-2033 to reserve your spot with us at Christmas Island in May or July 2020. You can email us for any further information you may need as well.

Monday: Arrive in Honolulu, Hawaii and overnight at your selected accommodations (independently arranged, not included).
Tuesday: Depart Honolulu, Hawaii and arrive at Christmas Island, where you will be transported to the lodge.
*Note: Please be aware that this flight crosses the International Date Line, so when you depart the island it will be Wednesday, and when you arrive back in Honolulu, Hawaii it will be 10:50 am on Tuesday. If you are planning on connecting with a flight home from Honolulu, Hawaii.
Typical Daily Schedule
6:00 AM: Wake
6:30 AM: Breakfast
7:00 AM: Depart for flat
8:00 AM – 4:30 PM: Guided fishing
5:30 PM: Return to the lodge
7:00 PM: Dinner
**Please keep in mind that your daily schedule will vary in accordance with tides and your fishing desires.
Christmas Island-May 19th To May 26th-2020 PDF Itinerary-Download
Christmas Island-July 28th To August 4th-2020 PDF Itinerary-Download