In May, the Yakima river comes alive with a multiple of hatches. The much anticipated Mother's Day hatch of several different caddis arrive and the trout begin feeding regularly on them. Also the March Brown Mayflies are still present in the afternoons, along with the B.W.O's.
The Yakima river sees a diverse hatch of caddis starting in the month of May. At times you will see several different sizes & species of caddis hatching. The olive Grannom, Little Western Sedge & The Gray Sedge Caddis are just a few of the species you will encounter at this time of the year. The Elk Hair Caddis imitation fished in the proper size and color will see much action. Small emerger patterns fished in the film also works well. The Para-Caddis is also a great caddis pattern to match the hatch of Yakima River Caddis. Olive, Gray, & Black are good choices.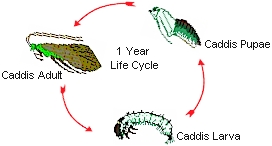 The life cycle of most caddis-flies last about one year. The caddis larvae are voracious in there appetite feeding on midge, small mayfly and even some stonefly nymphs.

When ready to begin there metamorphosis they build a home around themselves made from sand and small stones.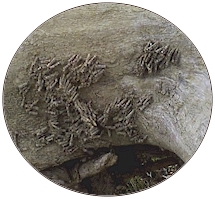 They stay incased for approximately two to three weeks before chewing there way free, emergering to the surface and quickly breaking free of the surface film to fly to the surrounding trees and brush.
Females return to the water usually in the evening to lay their eggs below the surface film. The female Caddis will also dive below the water to lay their eggs on the rocks below. These are highly vulnerable times for the Caddis and most are easy prey for the hungry trout.
Home | Contact Us | River Reports | Fly Fishing Adventures