" A BRICK & MORTAR PROFESSIONAL FLY FISHING PRO SHOP"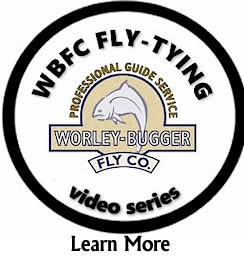 ---

THE DUMDUM STONE-ATTRACTOR
Here, Steve Worley, Owner of Worley Bugger Fly Co. demonstrates how to tie the "DumDum Stone". This is a fun pattern to tie in a variety of colors that will work well on many rivers where you experience big stonefly hatches. We use it on the Yakima River from March To November, varying the sizes and colors to reflect the hatch of stoneflies. It also works well as an attractor pattern on many rivers in the Western US, where big hatches of terrestrial insects occur.
The DumDum works well as a tandem point fly because of it's bouyancy. You will find attaching a dropper fly when you are fishing riffles or shallower water runs, works well. With the foam body, this fly is nearly unsinkable.
DUMDUM STONE-ATTRACTOR PATTERN RECEIPE CONTENTS:

GAMAKATSU C13-U KEEL BALANCE HOOK-#10

2mm FLAT FOAM-ORANGE,

1mm FLAT FOAM-BLACK

NATURE'S SPIRIT-TURKEY BIOTS

NATURE'S SPIRIT-DEER HAIR-ALL PURPOSE-DYED DUN

HARELINE DUBBIN-ICE DUB-ORANGE

HARELINE DUBBIN-FINE RUBBER LEGS-SPECKLED WHITE/BLACK

VEEVUS-8/0 THREAD-BLACK
---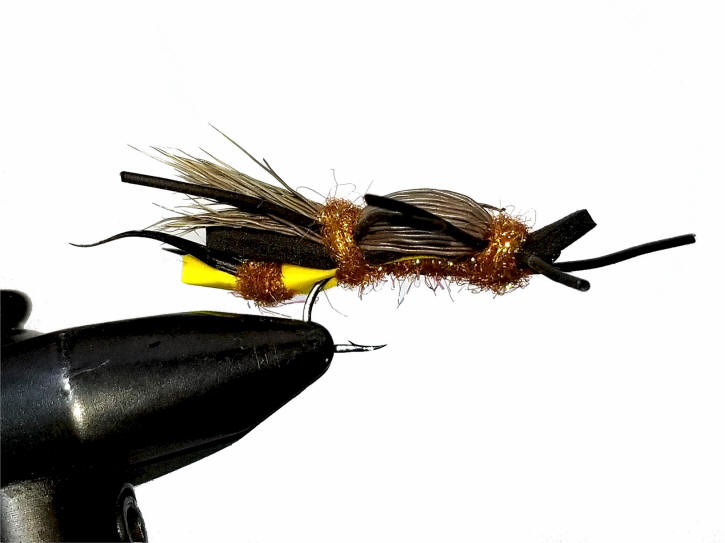 DumDum or DumDum Bullet is a rifle ammunition that explodes or expands when it impacts with flesh, thus creating even more serious injury. The use of "DumDums" in World War I was controversial and considered by many countries to be a breach of the "Rules Of War". ---- However, ALL combatant powers were known to have used them. ?
COMPLETE KIT

PATTERN
PRICE
THE COMPLETE FLY
TYING KIT
DUMDUM STONE-
ATTRACTOR
PRICE: $33.00 per pack
Buy Now

The complete DumDum Fly Tying Kit contains every fly tying item that you will need to put together your own DumDum Stones. (excluding vise and tools). Purchase the complete kit or buy only the items that you need below.

---

HOOK

PRICE

ADD TO CART
Gamakatsu C14U-Keel Balance Hook-#10
PRICE: $8.95 per pack
Buy Now
Hareline Dubbin-
2mm Flat Foam-Orange
PRICE:$2.00 per pack
Buy Now
Hareline Dubbin-
1mm Flat Foam-Black
PRICE:$1.65 per pack
Buy Now
Hareline Dubbin-
UV Ice Dub-
Orange
PRICE:$3.50 per pack
Buy Now
Nature's Spirit
Turkey Biots-Black
PRICE:$3.25 per pack
Buy Now
Nature's Spirit All Purpose Deer Hair 2x3-Dyed Dun
PRICE:$3.35 per pack
Buy Now
Hareline Dubbin-Fine Rubber Legs-White/Black
PRICE:$8.80 per pack
Buy Now
VEEVUS 8/0 THREAD-

BLACK
PRICE:$4.10 per pack
Buy Now
A PROFESSIONAL BRICK & MORTAR FLY FISHING PRO SHOP & OUTFITTER SERVICE
1713 SOUTH CANYON ROAD - ELLENSBURG, WA 98926 - 509-962-2033 - www.worleybuggerflyco.com