On Friday, December 15th, at 6:30 pm, WBFC will host another edition of the weekly fly tying night at the pro shop in Ellensburg. Join us each and every week, as a member of the WBFC professional fly-fishing staff will host a specific fly to be tied each new session.
We will be tying trout, bass and saltwater specific flies each new session. Every session is open to the public, however there is limited space at our "custom" fly tying table we had built in the fly tying materials portion of the proshop. We do require an RSVP for each session through the WBFC website, email, phone (509) 962-2033 or by coming directly into the pro shop beforehand to reserve your spot.
register
You can also reserve your seat online, by clicking the button below.
CALL THE PROSHOP TO BOOK YOUR SPOT-509-962-2033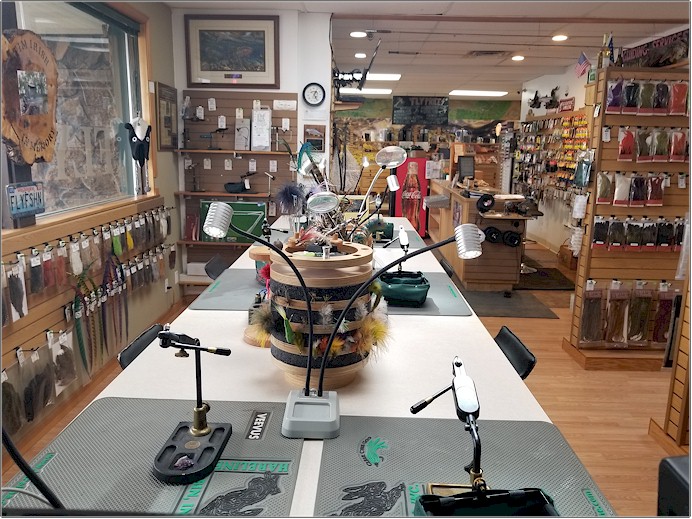 Each week, 7 spaces are available. Preregistration is required to hold your spot. Cost per session is $20.00 per space, pre paid in advance to hold your spot. Each session will include
All materials needed to construct each fly

Hooks, beads and thread, wire, lead, etc

as well as vises and tools if needed.

You take the flies you tied for your box at the end of the session!
Each station at the fly tying table is supplied with a Regal Fly Tying Vise and Dr Slick tools, which are some of the finest in the industry. Feel free to bring your own tying gear and join us for a night of learning and fun. Alcoholic beverages are not included, but bring your own...we won't mind!
Tyers of all skill levels are welcome, however this will not be a beginning tying course. If you interested in learning how to tie, visit the proshop for our upcoming courses on beginning fly tying.
Keep in mind it won't be fair to the others if you don't know anything about tying.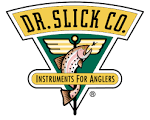 ---
- WBFC FLY TYING NIGHT
- PATTERN POPULAR
Our 3rd session will be Friday, December 15th @ 6:30 pm at the WBFC Proshop. This fly tying session once again will be hosted by owner and operator of WBFC, Steve Worley and the will be showing you how to tie the following:
"BUGGER CRANE-TIMBO CRANE"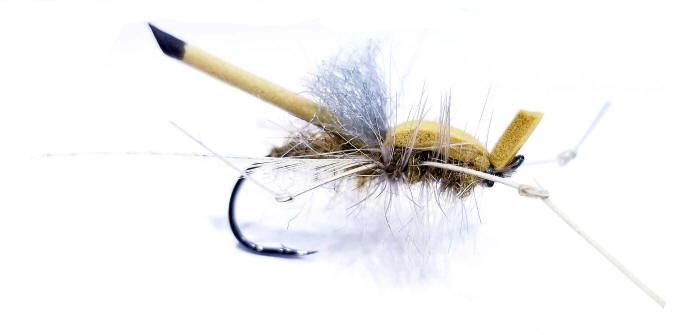 PATTERN DETAILS:
In September, Craneflies litterly take over sections of the Yakima River in Central Washington as they buzz, skate and bounce around thier prime egg laying waters, depositing eggs.
If you are without a good pattern to represent them in adult form, then you are seriously undered gunned and without the proper aresenal to match the hatch of this large, thin strange looking insect.
On Friday, December 15th, we will tie two reproductions of Adult Craneflies. The "Timbo" Crane designed by famed guide and outfitter as well as the Yakima River's first fly fishing guide, Tim Irish. Next we will tie the "Bugger" Crane, designed by Steve Worley, Owner, head guide and outfitter of Worley Bugger Fly Co. (WBFC).
These are two excellent, Cranefly patterns that you will not find in any other fly shop in the country, except the WBFC pro-shop in the fall of each fishing season. Join us on Friday, December 15th and learn how to reproduce both of these Cranefly patterns and be prepared for the 2018 fall fishing season. Steve Worley-Owner-Head Guide-WBFC
You can sign up for the Fly Tying Night and reserve your spot by clicking the "Sign Up Now" button below.
CALL THE PROSHOP TO BOOK YOUR SPOT-509-962-2033
---
We look forward each and every new week to introducing a new and exciting fly patterns that will be fun and challenging to tie as well as a great edition to your fly box and fishing arsenal.
Give us a call if you need help or advice. Our friendly, helpful and professional staff will assist you with questions you have.