Our close friend, colleague and mentor, Mr. Tim Irish, the Yakima River's first fly fishing guide and prodigal son, studied this critter in great detail and fashioned quite a diagram of the Skwalla Stonefly life cycle. Timbo was quite the artist and could pencil down diagrams, maps and pictures of insects in great detail. We are happy to share that information with you, because "Timbo", referred to by his closet friends, was a man who shared all of his fly-fishing knowledge, with any fly angler, he encountered. This diagram will show the migration routes and life cycles of the stonefly and relay to you the identifying characteristics of this unusual, river insect. It will give you the added information you will need to find success, during this post-winter, stonefly hatch. To enlarge the diagram you can click it.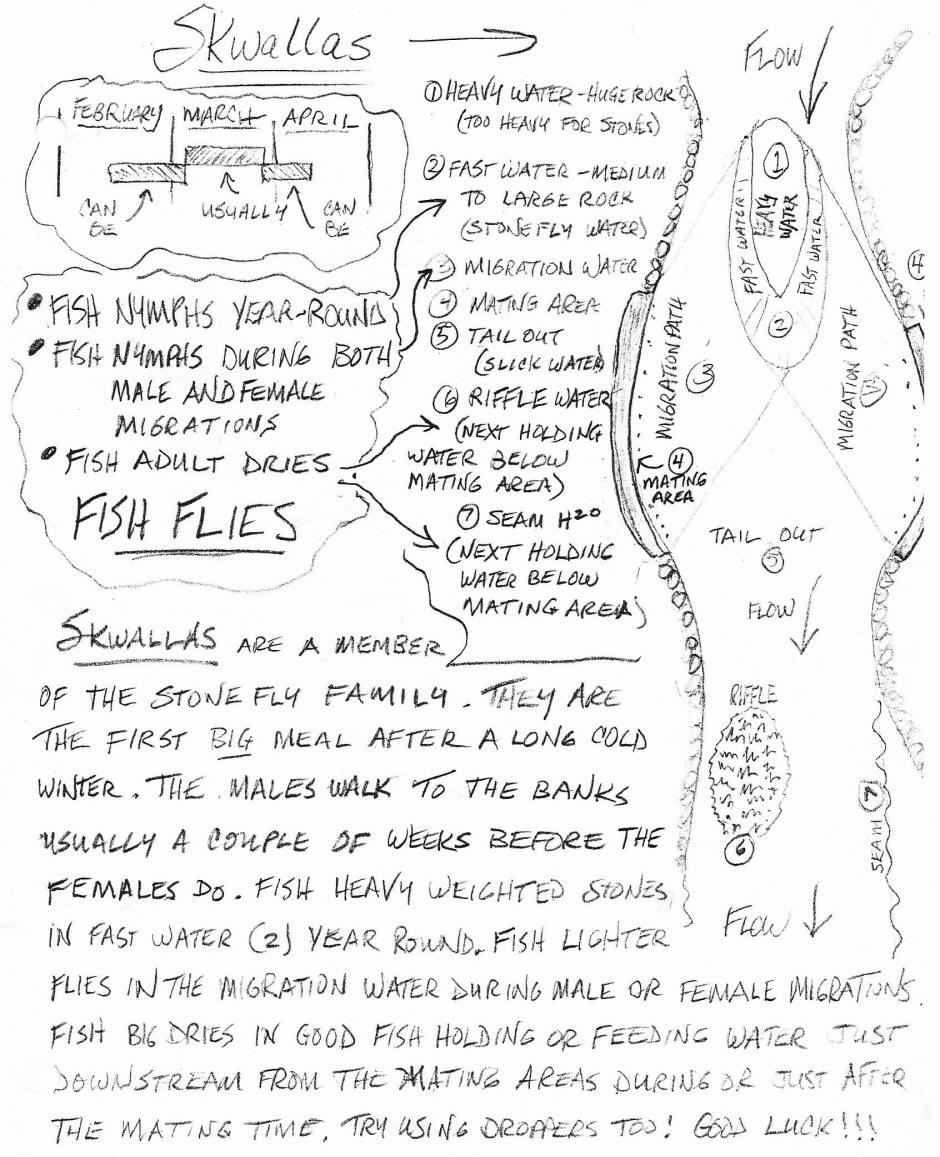 The WBFC EDU is dedicated to educating anglers on all aspects of fly fishing and one of if not the most, important pieces to that puzzle is food. Under our Insects, Hatches, and Baitfish section anglers will be introduced to the large selection of species that call our river home and our trout call lunch. Anglers will also have an in-depth look at what flies imitate what sources of food and many of those patterns will also have videos under our media section for you to reference when preparing for your next fishing adventure.
From Stoneflies to Caddis, Crawdads to Sculpin we here at WBFC want you to have access to the most information around when it comes to fly fishing. The team at Worley Bugger Fly Co. is dedicated to making you into the best fly fisherman possible. Check the Links below or above to be directed to our fly tying and EDU Videos, our Hatches Index, and our Insect Identification for an in-depth look at food for trout.
1713 SOUTH CANYON ROAD
ELLENSBURG, WA 98926
509-962-2033
www.worleybuggerflyco.com