After graduating high school, Nathan ventured east over the Cascade Mountain Range to the Kittitas Valley to try to expand his knowledge and begin his career path. During this time, he studied at Central Washington University and like many young students do, discovered a beautiful, trout stream flowing directly through the town of Ellensburg.
Nathan, quickly appropriated the necessary fly fishing gear and steadily became intrinched in the sport. The distractions of a "Blue Ribbon" trout stream were a constant trial of his restrain, however after four years, Nathan aquired his bacholer degree from the universary in Enviromental Studies. He is hoping one day, to work in outdoor law enforecement in Washington State.
Nathan formed a love for fly fishing and began to learn the true intricacies that the sport requires of someone who is wanting to participates, improve and accelerate at the sport. Patience, understanding of the fish and the responsibilities of being in the outdoors is what is instilled in a young person, when their introductions to fishing are first experienced. It embeds in a person and most of us find a true connection to what is ingrained in our DNA from eons ago. It's that derivative in our blood that forms and the need to on a river is a constant pulling at our identity.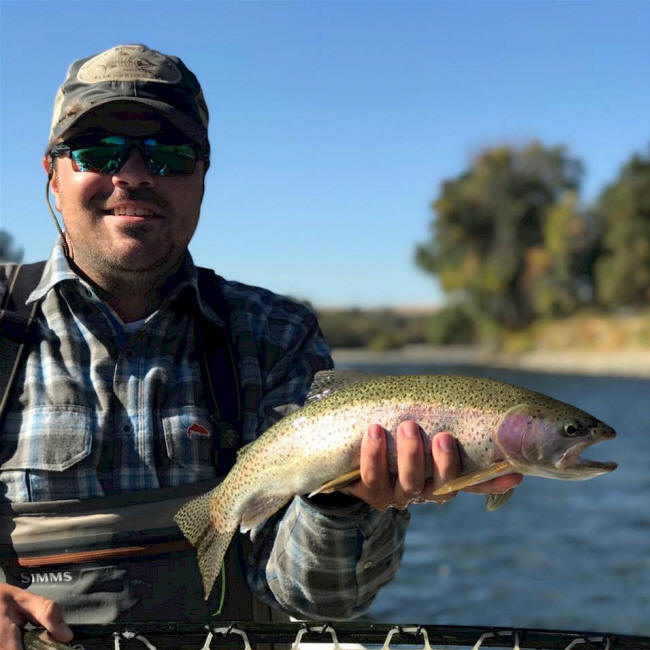 During that time, Nathan learned by trail and error, just like many do and he quickly formed a love a fair with the Yakima River. He honed his guiding skills by teaching many of the his former students and friends, the fine art of casting and catching fish on flies. They seem to be the perfect guinea pigs for a young and up-and-coming fly fishing guide at the Worley Bugger. Here, he honed his skills needed for a career in guiding and introduced many new young people to the beautiful sport of fly fishing.

Nathan joined the prostaff at Worley Bugger Fly Co. in 2015 and began just like all of our new staff members do, working the brick and mortar fly fishing pro shop. Here, each staff member learns the foundation and the principles of the WBFC mission statement. After showing interest in become a member of the guiding staff, Nathan began the rigors of this intensive training program that all new members of the guiding staff must complete. This assures us as Professional Fly Fishing guides that our customers are spending the day with a qualified insturctor, guide and oarsmen. It is an absolute requirement of any new staff member. This training is done over an extensive amount of the season and is overseen by the senior staff members of WBFC. In 2016, Nathan completed the guide training program and began his rookie career, showing clients the famous waters of the Yakima River.
Nathan is a fine young man full of energy and passion for fly fishing. He excells in helping other succed and enjoys teaching others the beauty of flyfishing. Nathan is now in his 3rd season of guiding trout on the Yakima River. He has also expanded his fly fishing knowledge and guiding skills to begin a showing cleintele the art of catching Smallmouth and Largemouth Bass on a fly. A typcial progression for the young students of WBFC.