Matt's fly fishing endeavors began during his teenage years, where he enjoyed exploring many of the small creeks in the Kittitas Valley as well as the Alpine Lake region of Central Washington. When Matt graduated high school, he set his sights northward and begin a guiding career with Dave Duncan & Sons in Southwestern Alaska. Here, he spent the long summer days with fruitful hours of light, guiding anglers from all over the world on the Kanektok River drainage.
This amazing and fabulous portion of the "Last Frontier" is home to five species of Pacific Salmon; Kings, Silvers, Chums, Sockeye and Pinks. It is also a thriving environment for Artic Grayling, Dolly Varden and every anglers favorite, the carnivores, Leopard Rainbows.
Matt's four year guiding career in Alaska, provided him with the essential life skills that every young man should experience and appreciate in their early life. This is the Alaskan Bush Country, where Grizzly Bears, Wolves and only those strong enough to brave the elements of Mother Nature, thrive with life and enthusiasm. Its a harsh environment and a great place for a young man to develop his confidence. Here, you sink or swim and Matt, quickly learned the importance of boat handling skills on a Alaskan river. He also gained a wealth of fly fishing knowledge, guiding fly fishermen for a variety of species of freshwater fish, in some of the worlds most inhospitable environments and conditions.
During his time in Alaska, Matt fell in love with the beauty of the last frontier and the incredible, Yupik people he was fortunate enough to live with. Being in the company of a group of people, who have thrived in a harsh climate was amazing experience. For thousands of years, these native Alaskan people have relied on the bountiful salmon runs, and a multitude of wild game that is present throughout the year. It was a constant reminder to Matt on the importance of good stewardship.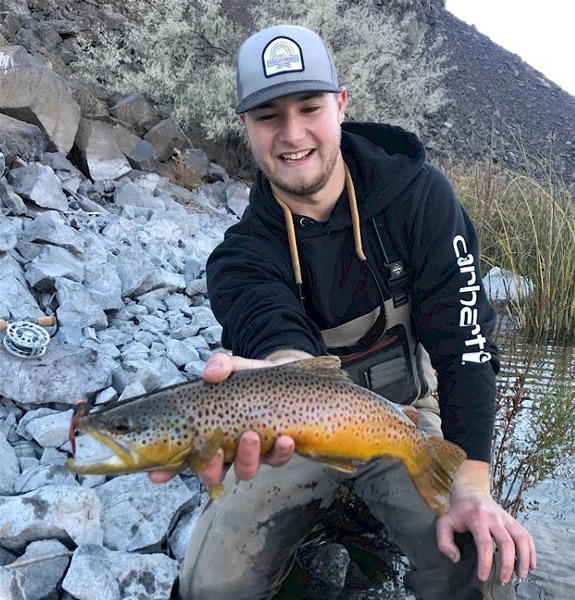 Alaska is where Matt fine tuned his love of fishing large streamers in tight, technical places. This is a absolute necessary skill one must incorporate when you decide to pursue Small and Largemouth Bass with flies like Matt has. These freshwater apex predators are notoriously known to lay in wait around tullies, low overhanging brush or other structures.
Matt embraces all types of fly fishing, but his true passion is fishing large streamers and top water popper flies to aggressive fish. Matt is also an accomplished fly tier and spends many hours each week, building and crafting his arsenal of weapons to load his fly boxes with. He spends his spare time increasing the numbers on his odometer in search of bass or trout in the Columbia Basin Unit, that are willing to eat large flies.

The Columbia Desert lands scape, is a favorite venue of Matt's and he has found not only spectacular beauty, but also an abundance of trophy Bass, Tiger Muskie, as well as Rainbow, Brook, Tiger, Lahottan Cutthroat and Brown trout that are all more then willing to indulge themselves in streamers, poppers and mouse patterns. The thrill is in the hunt and this type of fishing takes patience, skills and the knowledge to pursue large predatory fish, that like to eat other fish.
Matt's fishing times are divided between the Columbia Desert Unit and the Blue Ribbon trout stream that flows through Ellensburg. The close proximity to the beautiful Yakima river, is a distraction and a place where new fly patterns can be used and tested for future fly tying developments.