Jason still remembers his first experience with fly-fishing, a family camping trip to the Rocky Mountains of Colorado. That one, intial encounter with the sport engrained with him at the young age of seven. This first Brooke Trout on a fly fused a passion inside that would stay with him well into his adult years. From that point on, Jason strived to live in the mountains and rivers of our great country. He spent the rest of his childhood fishing in the mid-west and any chance the family had, was time spent, fly-fishing in the state of Colorado.
Jason graduated high school and went on to received his Bachelorís degree in Biology. But shortly after the college experience, felt a desire to continue his education and enrolled in the seminary, where he received a masterís in theological education. It wasnít until the year, 2007 that he was visited the Pacific Northwest and was enchanted by all of the beauty. Jason and his wife Stephanie, packed up their wagon and moved to North Seattle, where he began is seminary work mentoring youth and families within the community.
During Jason's time in Seattle, he taught many within his youth group how to fish. His first experience fly-fishing the Yakima River, was during the month of May, which can be a turbulent time for snow melt and heavy water run-off. The river was high with water and the clarity was not ideal. Jason didnít touch a fish that day and left the river defeated. One to never back down from a challenge, he was determined to figure out this one of a kind fishery. Over the past decade, Jason began honing in his skills on the Yakima River and started to redeem himself, catching fish consistently on each visit.
He first started thinking about the opportunity of guiding fellow anglers, while sitting in a room listening to a professional fly fishermen at a fly-fishing conference. The speaker initialized a question to the crowd, indulging the room and polling those who had successes while fly fishing the Yakima. The only three fly fishermen in the room to raise their hands were Jason and the two friends that he had been mentoring over the years.
During his time in the metropolis of Seattle, Jason operated a small business that mentored the communal youth. He also pastored within his community at many of the local houses of worship and spent much of his free time volunteering as a public revitalizer.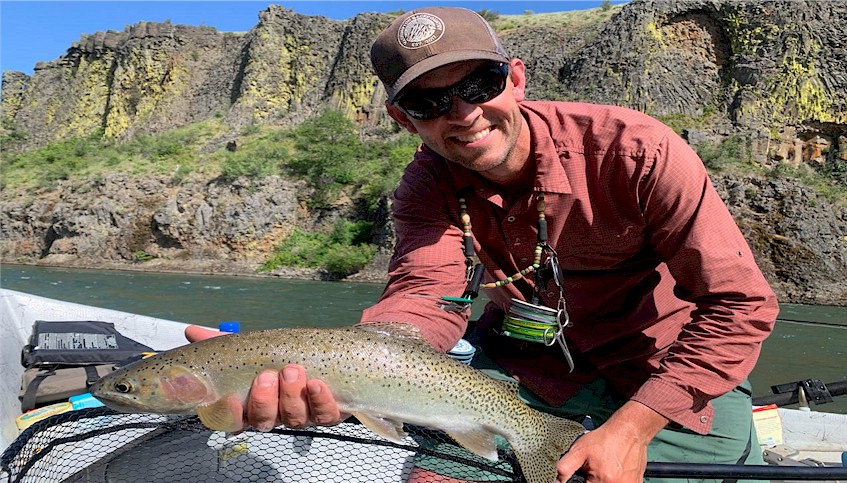 In the spring of 2020, Jason and
his family made a dream come true. They packed up all of their worldly belongings and livelihood and moved to the fly fishing town of Ellensburg. Here, they can raise their two sons, Rivers(8) and Rhodes (6) in a country rural community, much like the same one Jason enjoyed during his childhood.
Like the other staff members at WBFC, Jason take pride in working with people of all skill levels. You will always get a very positive and enthusiastic approach, while spending a day on the river with him.