Good day friends. I am well over due in my duties in putting together the fishing report for spring, so I have finally sat myself down today to report on what has been happening in the fly fishing scene here in Central Washington. Ultimately there hasn't been a lot of great news to report, especially when it comes to the spring that we have experienced here in the Ellensburg Valley. Has river fishing been great? Not yet. However, it will be....shortly! We have experienced some excellent days of fishing on the Yakima, however water conditions have been a constant battle since February, as rain or short term bursts of heat, have created big, muddy water and a constant postponing of guided trips. Sorry folks, we don't like to fish in muddy water here at WBFC. We will cancel or reschedule our trips if river conditions are not favorable. This has always been our philosophy since the beginning, nearly 25 years ago this June.
After a very long and cold winter, where many of our days in January were sub zero to -15į below for a couple of weeks at a time, spring crawled its way into the Kittitas Valley. It was an average snow pack year in the mountainous terrain of the Cascades Range. However, the bitter cold temperatures that we experienced held the snow pack placement in check for many more moons than what we are use to. Typically, by February the snow pack is powering out of the hills, filling the tributaries of the Yakima brim full as melting snows pack, adds sediment and massive volumes of water to the river. This year, it came in small increments, driving the river conditions up and down with just enough soil deposits to create unruly fishing conditions for us. At this time today, we are in the tail end of our 6th or 7th washout of the spring.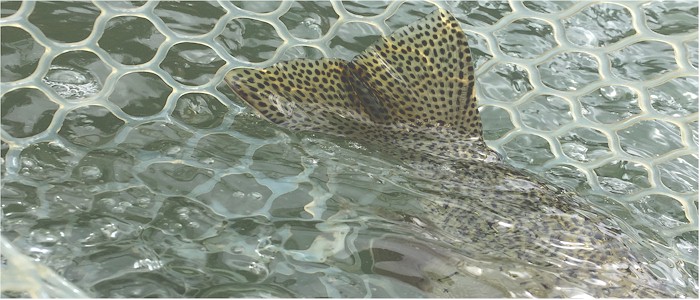 By the looks of the daily snow pack conditions and what the report is stating, this should be our final spring runoff as the main reservoirs of the Yakima will gain control over the water flows and levels and will begin controlling the daily cfs conditions of the river. There is great news for the upcoming summer fishing that is just around the corner. You can check the current snow pack conditions here.
Now as the Memorial Day Weekend approaches, folks from every corner of the state will be heading to the rivers, lakes and campgrounds in droves. Itís always a cluster of boats, rv's and buses congested bumper to bumper on the interstates. However, I think we have to remind ourselves why we live in the Pacific Northwest; its the outdoor lifestyle. It's that very reason we seek out the beauty of the mountains, the desert or the evergreen forests. Being outdoors and exploring the fabulous backyard of the Evergreen State is worth the work it takes to arrive at that special destination. Drive carefully and get there and back in one piece.
-WHAT TO EXPECT FLY FISHING IN THE MONTH OF JUNE ON THE YAKIMA RIVER-
Its high water time on the Yakima now and most likely we won't see a suspended drop in cfs flows until late August. Wading the river is no simple task during this time in most areas due to the bank full flows of the Yakima. Irrigation season is at its peak during this time in Kittitas, Yakima and Benton Counties, so river volumes will be in excess of 4000cfs of better. This happens so the canals stretching across the farmlands of these three counties can fill with water to irrigate hay, fruit trees, hops and fields of vegetables that literally feed a nation.
During this month, boating the river is ideal as we can move from one area to another fishing on the go as big flows push many of our fish to the grassy banks. Others will move to the oxygenated riffles and runs, where river rock or basalt structure is evident. Here you can access these places on foot as we anchor the boat safely in the shallow flats. Fly fishing these areas on foot during this time of the year is near impossible and dangerous. High velocities of water must be respected or you could easily be washed downstream in a matter of seconds.
As the fish move to the banks, they will begin to encounter hosts of what we refer to as "Bank Foods". Terrestrials of all kinds will begin appearing in the thick grasses that grow uncontrollably along most of the Yakima's river banks. Here, the trout quickly tune their attention to the hoppers, ants, beetles and bees as a vital protein food source, especially during the heat of the day, when aquatic bugs are not hatching. This is a fun and exciting type of dry fly fishing that will test your accuracy with a fly. Most of the time an inch away from the bank is too far, so recast and place it tightly against the bank and brush. "They got to see it--to eat it". This type of fishing will commence the entire summer and remain great until September.
Because of our cool, wet spring the river at this time is still experiencing a major hatch of caddisflies. Thick, air engulfing, dark bodied caddis are hatching, especially on days where the heat is driven into the upper 70 to 80 degree range. You can expect caddis hatches to happen most of the summer, lasting into the month of September. Be prepared with two different types of flies. Dark body and Light Body. Size 14 and 16 caddis dries will cover your bases and don't forget the pupas in the same.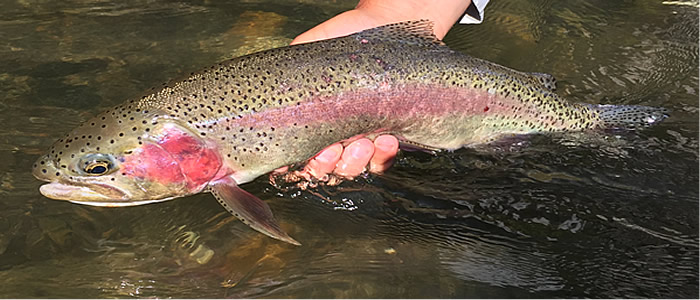 The river just exercised the most intense hatch of Salmonflies I think I have ever seen in my two decade tenor of fly fishing the Yakima. This giant stone was hatching in all sections of the river. Though most fly fishers talk about the dry fly fishing as being legendary, the nymph fishing is usually what produces the biggest fish during this occasion. This remained true again this year and as of last Sunday, big Yakima trout were still gorging on Salmonfly nymphs. By the time you read this, the hatch will be over in most areas until its return, next April.
However, if you missed the Salmonfly hatch, the Goldenstone nymphs are starting to appear along the edges of the river now, so expect to see this smaller cousin of the Salmonfly over the next few weeks, throughout the entire 80+ miles of the Upper Yakima trout fishery. Nymph fishing with a Golden Stone pattern is a great technique to search over the riffles and runs, if you can't visually see trout feeding on the surface or just below, especially early on when you are trying to identifiy or search for trout holding lies.
-SMALL CREEKS & STILLWATERS
-
Stillwater or pond fishing has by far been the most consistent this spring. Ice out was late for many, however most of the lakes and the fish fared very well, despite a very cold and icy winter. Popular lakes like Lenice, Chopka (fish kill here) Burke and many of the Seep Lakes, south of the Potholes Reservoir are still producing great fishing on most days. Wind driven days where excess speeds top 20+mph are good days to avoid, however this spring only a hand full of those days have actually appeared. As of today, most of these lakes are producing hatches of Callibaetis Mayflies, Damsel Flies, and Chironomids. Don't forget your ant patterns either! Expect most trout lakes to remain consistent until high air and water temperatures occur.
The first Saturday in June, marks the smaller river opener for many of the tributaries of the Yakima. The Teanaway, Tanuem Creek, Manashtash Creek and the Upper Cle Elum River are all excellent trout fisheries in their own right. Expect high water flows in all of these areas the first few weeks of June. Flows will begin tapering off most likely towards the middle of the month and these can be fun little places to venture to with a short, lightweight rod and a hand full of dryflies. Purple Haze, Royal Wulff, Parachute Ants or smaller Chubbies and Stimulators are ideal for fishing any of these waters in June. For those that find the Yakima a beast during the summer, travel to these smaller, less intimidating waters for a day of fun and sun. You will find trout thrive in these waters and are far less picky then their brethren that swim in the big river. Plus the scenery abound is worth its weight in gold!
-FLY FISHING FOR SMALLMOUTH
-
We begin our 19th year of fly fishing for Smallmouth in the Lower Yakima this season. It is a time of the year that I always look forward to and find myself guiding more and more days each season. The interest in bass on the fly is definitely growing and for good reason.
June will mark the beginning timeframe for Smallmouth in the lower river as water flows from both the Yakima and Naches River begin to settle and drop from spring run-off. When this occurs, big adult Bronzebacks will fire up and begin their annual spawn. Itís a quick yearly ritual, where the female will make the nest, lay the eggs and then disband, leaving the nest in the protective hands of her suitor. Here, he guards against other predators, while big females forage and take advantage of food sources that abound in the lower river. Salmon Fry, Carp Fry, Crawdads, Pike Minnow and other baitfish are a prime example of food sources for smallies here. Don't forget your topwater flies. The Lower Yakima provides excellent surface fishing on most days.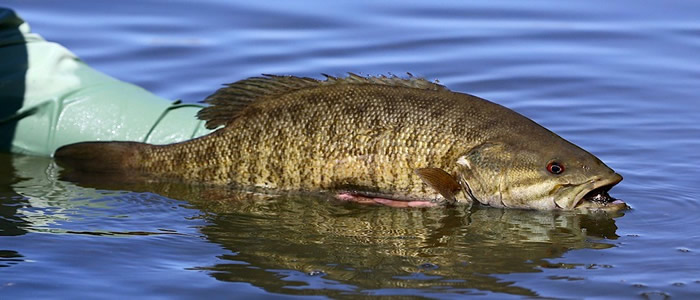 This is a fun and exciting fly fishing experience. The Lower Yakima has an entirely different beauty than the upper, where thick Rose bushes and Russian Olives grow taunt along the banks. Excellent flow and a mixture of river rock and basalt structure provide adequate cover ideal for Smallmouth Bass. That is why they have strived here since the early 1950's, when the WDFW in their ultimate wisdoms, planted this highly predatory, fierce fish into the waters of the Yakima.
From here, they have ballooned out and are present in ever major tributary of the Columbia River as well as the main stem Columbia itself. Five pound Smallmouth are common through the main stem of the river. The Lower Yakima will of course see fish of this size, however be prepared to scrap with 2 to 3 pounders most of the day.
Many of our June dates are already filled, however we still have a few open spots during the prime time. If you would like to experience the Smallmouth fishery with us give us a call at the pro-shop. Itís a good idea to call with a couple of different dates, so we can accommodate your schedule. Many dates filled in quickly this year.
-
LUND POND FLY FISHING-
In October of last year, WBFC acquired the private fishing rights to "Lund Pond". The pond is a small, naturally spring feed lake that is located just west of the city of Cle Elum. It sits in a natural setting of fur and pine that we find prevalent in the Upper County. These tall Evergreens create an ideal wind break as well as aid in providing cover from the hot summer sun.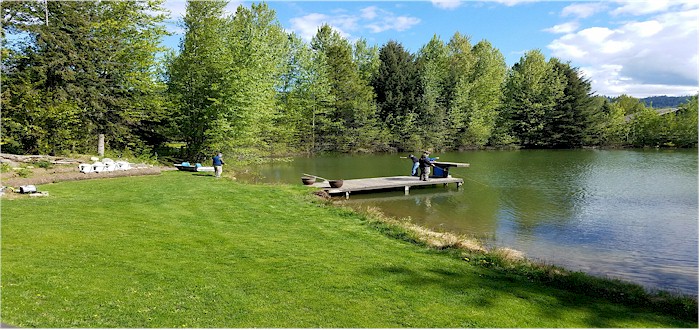 Fish in Lund Pond average 5 to 6 pounds with many over 10 pounds. Last week, a rainbow was caught that we believe to be over 15lbs. The lake was originally stocked years ago with triploid and diploid rainbows and also has wild stocks of Brook Trout. Brook Trout over 5 pounds have been caught in Lund Pond.
This is a great place for us to introduce new fly fishers and we have begun operating our fly fishing classes here. Itís an excellent place for a beginner to learn to cast, mend a line as well as learn how to hook, fight and land a big fish. These learning experiences on the river can take some time. At Lund Pond, new fly fishers can quickly develop their skill sets that will prepare them for more challenging and demanding fisheries.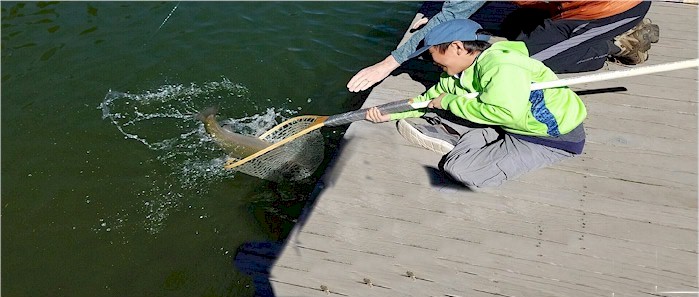 WBFC is hosting guided fly fishing trips now to Lund Pond for the season. Because it is a privately managed fishery, Lund Pond is only available to fish 3-4 days per week, with a maximum of 6 people per day. Cost for a 5 hour trip is $125.00 per person + a 40.00 dollar rod fee per person to the property owner. Trips do include: flies, leader, tippet and gear if needed. A minimum of 2 people is required to book Lund Pond for a day of guided fishing. You are welcome to utilize your own float tube or pontoon boat during your day and there is also a drift boat on site.
If you are interested and would like to introduce someone to fly fishing, Lund Pond is an excellent place to do so. Please contact the pro-shop for booking and days of availability.
-YAKI
MA RIVER PUBLIC ACCESS-
In February of this year, I was asked to join the Kittitas County Public Land Access Committee and I humbly agreed. It has been an excellent experience so far, working with a dozen other members, where the interest is centered solely around public land access to our rivers, streams and forests in Kittitas County.
We have 3 major projects of interest this year and as of May one of these projects has already been completed. The second project is acquiring more public access points along the "Upper Yakima River" and to designate some of these areas as new boat launch access areas.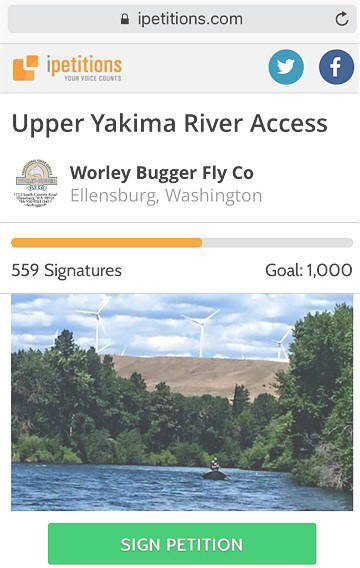 The committe chairman is applying for grant money to begin conducting area's of study and by early fall of this year, we are hopeful to have a finalized plan in place. If the timeline plays out like we presume, we should have new boat launch access points in several areas of the river, as well as more public walking and wading points in 2018.
If this is something of interest and you believe "public access" is worth maintaining, please take a moment to visit the site URL above, by clicking the petition graphic. Here you can sign the petition and voice your concern about improved access on our one and only trout fishery.
-FACEBOOK
-YOUTUBE-WBFC WEBSITE
We have also been busy adding a brand new shopping cart to the WBFC website. It has been a tedious process and most of it is complete. Easy, online ordering and quick shipping is available. We stock thousands of need to have fly fishing and fly tying materials. 99% of all of the items are shipped directly from the pro-shop here in Ellensburg. If you haven't been to the pro-shop lately, our remodel is complete (for now) and the added space as been usuful in adding many new and exciting products.
Phone Orders are always welcome. Thank you. We appreciate your business!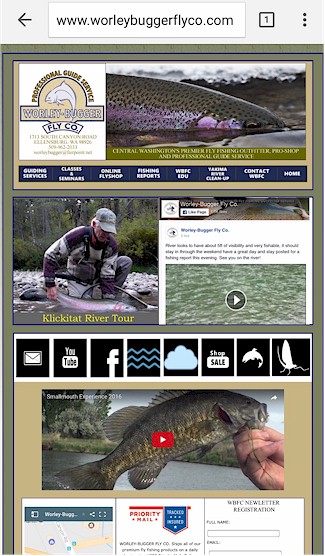 Follow us and "Like:" our Facebook page and subscribe to the WBFC YouTube Channel. Here we have daily fishing reports as well as information on classes, both fishing and fly tying.
The YouTube Channel is filling up with instructional videos on fly tying and fly fishing in Central Washington.
We look forward to seeing you this summer. Give us a call if you need help or advice. We would love to have you for a day or two of fishing.