APRIL-10th-2019
The infamous Kittitas Valley winds have shown up this week as a big storm front pushes over our area. Winds speeds in excess of 50 mph were recorded yesterday, creating some tough fly fishing conditions throughout Central Washington. We have had quite a bit of rain fall with these storms as well, which has dumped most of its moisture during the night time hours.
The Yakima River today is running high, but clear dispite the amount of rain we have received. Acccording to the NOAA prediction the river will continue to drop over the next week, which is great news for us. You can bet on Skwalla Stoneflies in the early to mid afternoon as well as March Brown Mayflies and Blue Wing Olives hatching around 2:00 pm. Folks this can be some of our best match the hatch fishing of the year, so plan your fishing days according.
It looks like we are going to get a least another week of April fishing on the river before more of the high elevations snow pack comes rolling out of the hills. The fish are in excellent shape and have wintered very well.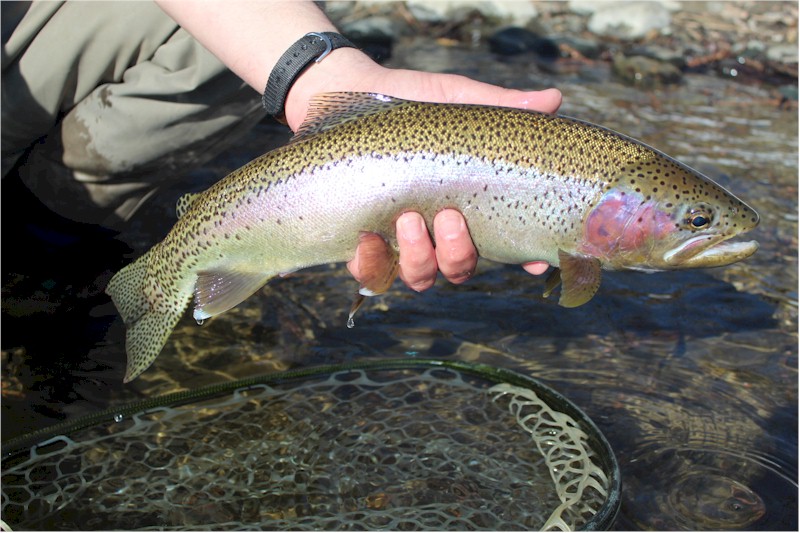 Most of the Columbia Basin lakes are reporting good fishing with buggers, leeches and chironomids. Dry Falls, a popular Grant County fishery is reporting fair to poor fishing with cold water conditions. Water temperatures are ranging in the mid to high 40 degree range. A few fish are being caught here, but their are other lake producing better results at this time. Lake Lenice & Nunnally are popular lakes for fishing and both are fishing well at this time. The Quincy Lakes area is also reporting good fishing as well. These specific lakes for trout are Burke, Dusty and Quincy.
We fished Evergreen Reservoir last week for Tiger Muskie and Bass. Water is still to cool for good bassn'. We did manage to hook up one big Muskie, but unforunately these razor sharp toothy critters can chew through a heavy piece of mono very quickly. Tough lesson, when you are pursing the fish of 10,000 cast with your bass stick.
Call or stop by the WBFC Pro-shop if you need any further informations. Have a great day!