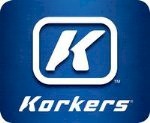 WATER INSPIRED FOOTWEAR

BACK TO WADING BOOTS
Water by nature is an ever changing entity. Temperature changes, flow changes, & water level changes have made water almost impossible to prepare for or conquer....until now. From soft sticky rubber soles to felt soles, to carbide gripping cleats, Korkers uniquely designed performance footwear finally gives you the upper hand.
Featuring OmniTrax Interchangeable Sole Technology, Korkers water based footwear products are designed to give you confidence with activities in and around water. No matter how slick the surface, Korkers will give you the best traction and versatility in the business.
KORKERS WATER & FISHING FOOTWEAR SYSTEMS

KGB BOOT
CHROME BOOT
METALHEAD BOOT
REDSIDE BOOT
ADDITIONAL BOOT SOLES
Pro Shop Hours 8:00 A.M.- 6:00 P.M. (pst) 7 Days A Week Online Ordering-24-7
Worley Bugger Fly Co. ships worldwide using

Free USPS Priority Mail Shipping on orders of $100.00 or more anywhere in the lower 48 states.
Tax free purchases for out of state resident internet and phone orders. Learn More